Muhammed-Bello Buhari (MB Buhari), a public affairs commentator, on Monday said Bola Ahmed Tinubu is dependable when it comes to religious freedom.
POVIEW reports that Buhari's social media post seemed to urge Nigerians to look beyond the selection of a former Governor of Borno State, Senator Kashim Shettima, as the running mate to Tinubu, the presidential candidate of the ruling All Progressives Congress (APC) in respect of the 2023 election.
Tinubu had, on Sunday, after a closed-door meeting with President Muhammadu Buhari, in Daura, Katsina State, confirmed Shettima as his running mate.
The decision has caused varied reactions, with many of his critics castigating him.
Religious balance has become a sensitive issue in Nigeria, given the rise in terrorism and other forms of insecurity, believed to have assumed religious slant.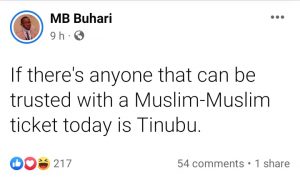 "If there's anyone that can be trusted with a Muslim-Muslim ticket today is Tinubu," Buhari said via his known Facebook page.