Big Brother Naija season 6 star, Tega, has cautioned individuals to be cautious while choosing partners with whom to have children.
The mother of one gave this advice in a post via her Instagram stories. According to her, having a child with someone necessitates extreme prudence since, if done wrongly, one could be digging one's own grave.
"Be careful who you have a child with, you may be digging your grave. At this point I don't even mean who you marry. I mean who you have a child with." she wrote.
See her post below,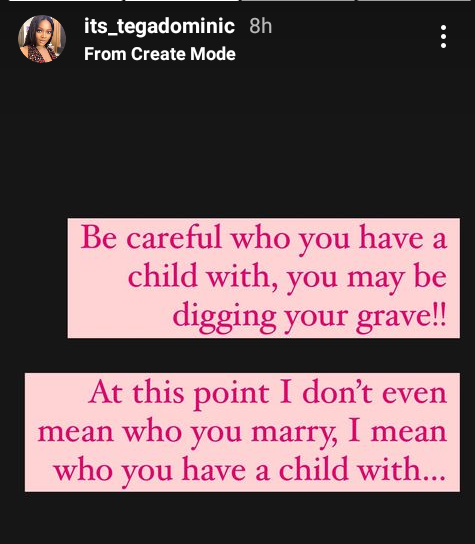 Meanwhile, former reality TV star and businesswoman, Ifu Ennada has said people shouldn't get married and have children if they are broke.
She says some people, who are broke, delve into making a family with the feeling that their rich family member or friend are backup plans which is cruel.
She wrote on her page,
"Pls don't get married if you are broke and don't bring children into this world if you are broke. Some people do these things because they feel that their rich family member/friend is a backup plan but this is cruel, especially to the kids you are bringing into this world,"
"Let those kids be chilling in heaven till you have money to take care of them. Let's do better this 2022." she added